Thesaurus Indogermanischer Text- und Sprachmaterialien

TITUS
DIDACTICA
Old Avestan Text Sample

Y(asna) 28,1: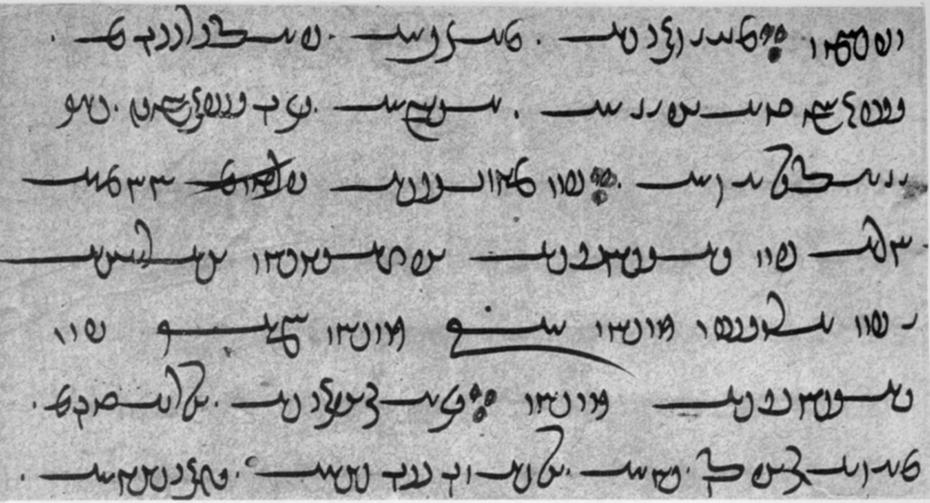 ms. J2, fol. 175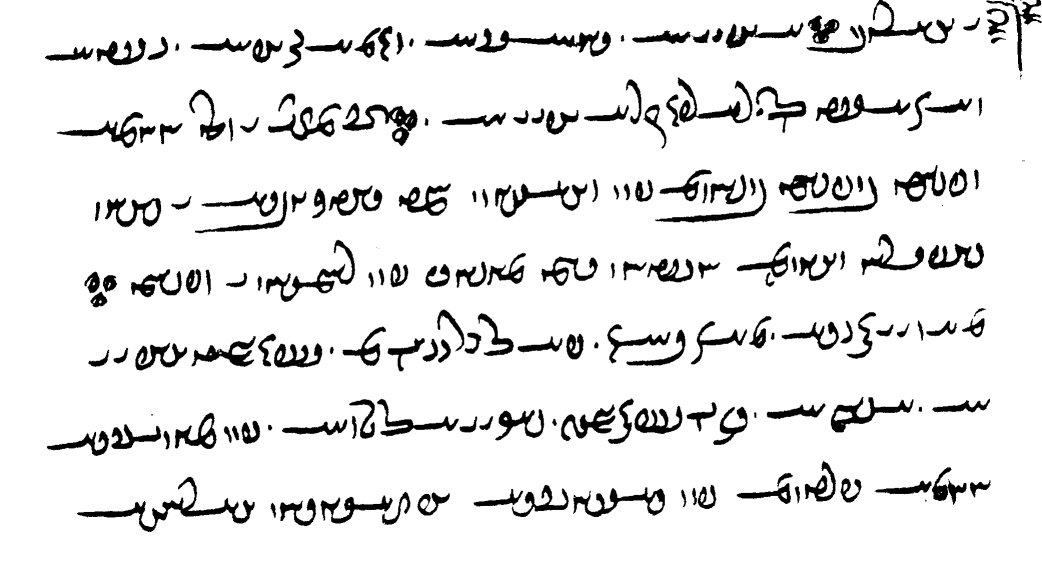 ms. K5, fol.

a) Transliteration:
ahiiā. yāsā. nəmaŋhā.
ustānazastō. rafəδrahiiā.:
mainiiə̄uš. mazdā paouruuīm.
spəṇtahiiā. aṣ̌ā. vīspə̄ṇg. š́iiaoϑanā.:
vaŋhə̄uš. xratūm. manaŋhō.
yā xšnəuuīšā. gə̄ušcā. uruuānəm.:
"Historical-phonological" transcription:
ahi̯a i̯āsā namahā
ustānazastah rafϑrahi̯a
mani̯auš mazdā paru̯iyam
spantahi̯a artā u̯ispānh ši̯auϑnā
u̯ahauš xratum manahah
i̯ā xšnau̯īša gauš ca ruu̯ānam
c) Transposition into Vedic Old Indic:
ásya *yācchā námasā
uttānáhasto *raptrasya
manyór medhā́ pūrvyám
*śvantasya *ártā víśvān cyautnā́
vásoḥ krátum mánasā
yā́ *kṣṇavīṣa góśca *ruvānam
d) German translation by Christian Bartholomae:
Zum Gebet um Unterstützung die Hände ausstreckend will ich um seine, des heiligen Geistes Werke, o Mazdāh, vor allem zuerst bitten, o Aša, auf daß ich den Willen des VohuManah befriedige und die Seele des Stiers.
e) German translation by Helmut Humbach:
Seine gehe ich zunächst bittend an, mit Ehrfurcht die Hände emporgebreitet haltend, des Helfers,
des durch die Wahrhaftigkeit heilvollen Strebens Angehörige alle, mit dem Opferwerk, o Kundiger,
um dessentwillen du den Geist des guten Gedankens und die Stimme der Kuh anhören mögest.
f) English translation by Stanley Insler:
With hands outstretched in reverence of him, (our) support, the spirit virtuous through truth, I first entreat all (of you), Wise One, through this act, for (that) through which Thou mayest satisfy the determination of (my) good thinking and the soul of the cow.
---
Young Avestan Text Samples
1. Y(aš)t 10 (= Mihr-Yašt), 1:
mraot̰. ahurō. mazdā̊. spitamāi. zaraϑuštrāi∵
āat̰. yat̰. miϑrəm. yim. vouru.gaoiiaoitīm. frādaδąm.
azəm. spitama.
āat̰. dim. daδąm.
auuā̊ṇtəm. yesniiata. auuā̊ṇtəm. vahmiiata.
yaϑa. mąmcit̰. yim. ahurəm. mazdąm.∵
German translation:
English translation by Ilya Gershevitch:
Es sprach Ahura Mazdā zu Zarathustra, dem Spitamiden:
"Als ich einst Mithra, der weite Fluren besitzt, erschuf,
ich, oh Spitamide,
da schuf ich ihn
ebenso opferwürdig und ebenso verehrungswürdig
wie mich selbst, den Ahura Mazda."
Said Ahura Mazdāh to Zarathuštra the Spitamid:
`When I created grass-land magnate Mithra,
O Spitamid,
I made him
such in worthiness to be worshipped and prayed to
as myself, Ahura Mazdāh.'
---
2. V(idēvdā)d 13,29-30:
dātarə
yat̰ ahmi nmāne yat̰ māzdaiiasnōiš
spā auuacą vā bauuat̰ aδāitiiō.xratuš
kuϑa tē vərəziią̇n
aēte yōi mazdaiiasna

āat̰ mraot̰ ahurō mazdą
auua hē baraiiən tāštəm dāuru
upa tą̇m manaoϑrīm
stamanəm hē aδāt̰ niiāzaiiən
*ašti.masō xraožduuahe
biš aētauuatō varəduuahe
German translation:
English translation by E.W. West:
"Schöpfer,
wenn in diesem Hause von Mazdaanbetern
ein Hund sein sollte, der stumm ist oder ohne Verstand,
wie sollen sich diese (ihm gegenüber) verhalten,
die Mazdaanbeter?"
O Maker of the material world, thou Holy One!
If there be in the house of a worshipper of Mazda
a mad dog that bites without barking,
what shall the worshippers of Mazda do?

Also sprach Ahura Mazdā:
"Sie sollen ihm ein zugeschnittes Holz anbringen
am Hals
und von da aus in sein Maul hineinzwängen,
(ein Holz) von der Länge einer *Spanne, (wenn es) weiches (ist),
ein zweimal so großes, (wenn es) hartes (ist)."
Ahura Mazda answered:
'They shall put a wooden collar
around his neck,
and they shall tie thereto a muzzle,
an asti thick if the wood be hard,
two astis thick if it be soft.
---
| | |
| --- | --- |
| Achtung: Dieser Text ist mit Unicode / UTF8 kodiert. Um die in ihm erscheinenden Sonderzeichen auf Bildschirm und Drucker sichtbar zu machen, muß ein Font installiert sein, der Unicode abdeckt wie z.B. der TITUS-Font Titus Cyberbit Unicode. | Attention: This text is encoded using Unicode / UTF8. The special characters as contained in it can only be displayed and printed by installing a font that covers Unicode such as the TITUS font Titus Cyberbit Unicode. |
---
---

Copyright Jost Gippert Frankfurt a/M 2000. No parts of this document may be republished in any form without prior permission by the copyright holder.